eHireForms - New Hire Onboarding Software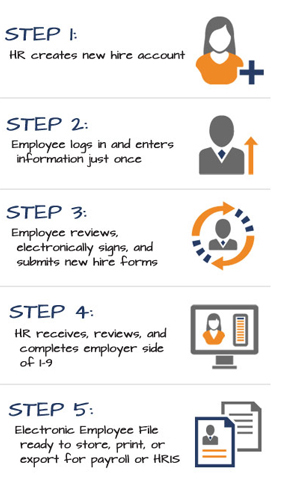 Stop Wasting Time & Money with New Hire Paperwork
Our banks are going paperless. Our universities are going paperless. Even our phone companies are dumping their paper bills. Why not HR?
Can you imagine a world of paperless employee onboarding? A world where you new employees login to a secure and simple portal in order to complete their new hire paperwork. A world where a consolidated form function virtually eliminates duplicate entries for your new hires. A world where your entire new hire paperwork packet is completed by your employees electronically, signed electronically, and submitted electronically. A world where employee files can be made 100% electronic and can be stored indefinitely and searched frequently with no additional fee?
Well, paperless onboarding is here and it will simplify every step in your new hire paperwork and employee onboarding process. It will eliminate the risks of incomplete forms and will save you time and your organization's money. Click
here
to get a price quote for your business.
With paperless onboarding, you will have time to focus on more important things, your people, their development, and helping to grow the business.
Introducing Employee Onboarding Software: Fast, Easy & Risk Free
First impressions are vitally important, even to an organization with a new recruit. Being organized, efficient, and helpful to your new hire means a lot and will, in many cases, determine their impression of the organization for many years to come. With paperless onboarding you can get employees plugged in to your company quickly and easily with no wasted time and no annoying paperwork. Get your new employees working right away! Our Employee Onboarding Software does all of this and more!
No More Paper – Save time, money, and frustration by dumping the paper.
Less Risk – Required fields, flawless archiving, unlimited storage all help you rest easier and can keep you from penalties.
Happy New Hires – Ability to fill out paperwork on their own time, save and return features, "Enter Once – Populate Many" take the redundancy out of entering the same data more than once, and an easy to use interface make for happy new hires.
100% Safe and Secure – All employee information is encrypted and strictly protected.
eVerify Integration – Once a new hire has submitted their paperwork, with a few clicks you can have the verification for employment at your fingertips.
More Time for You – With less filing, less questions on new hire paperwork, and less stress relating to onboarding, you will have more time to focus on your many other work responsibilities.
Employee Onboarding is Risky Business
Even a simple mistake filling out new hire forms can lead to penalties of up to $1,100 per employee. Imagine the costs to your company if you made the same mistake on each and every employee form! High employee turnover and multiple business locations dramatically increase the risk of being out of compliance. Even if you did manage to fill out all of the forms correctly, you still are required to store them for years after the employee has left the company. Our electronic employee onboarding tool virtually removes the risk associated with the new hire paperwork and an onboarding process.
Size Doesn't Matter
We offer the perfect employee onboarding solution for any size company. Whether you're hiring your 1st employee or your 500th, you will discover a wealth of time and savings from significantly more efficient employee onboarding software. So ditch those old paper new hire forms and improve your onboarding system today.
Schedule a no-obligation, live demo today to see exactly how great your employee onboarding system can become!